Were you injured at work or while working from home (WFH)?
Our work related injuries specialist downtown Seattle chiropractors have been providing work related injuries treatment for 30 years. Studies have shown that chiropractic care gets people back to work much sooner and at a far lower cost than medical care for the same type of on-the-job back pain injuries as well as repetitive stress injuries (RSI). Therefore, for the patient, this means less time in pain and more time to enjoy life. The doctors at Devine Chiropractic & Rehab Center understand worker's compensation laws and are ready to help you with filing an accident report with your employer and further billing the insurance carrier. Additionally, We'll help guide you through the red tape so that you can focus on getting better.
Correspondingly, if you've developed shooting pains and weakness in your hands after spending weeks glued to the computer or a burning, aching pain in your elbow after playing too many rounds of tennis, or pain in your neck and shoulder after playing a musical instrument you likely have a repetitive strain injury (RSI).
Repetitive stress injuries are caused by repeating the same motions for hours on end over extended periods of time or by bad posture.
When muscles are used, tiny tears occur in the muscle tissue. However, the area becomes inflamed as the body attempts to repair the damage. Scar tissue formed over the torn muscle tissue causes localized pain. Furthermore, repeated use causes scar tissue and pain to increase reflecting work related injuries.
If you are suffering from an RSI, the pain won't simply "go away."
Likewise, musicians should not attempt to play their instrument if their arms, elbows, shoulders, or neck are bothering them. Apart from this, dancers should not ignore foot pain. Also, athletes should not feel that pain is just a part of the game. Moreover, without effective Work Related Injuries Treatment or related injuries specialists, the pain may become severe enough temporarily stop or permanently end a person's hobby or career.
The earlier that an RSI is diagnosed and treated, the better the outcome can be.
Typically, the chiropractic treatment for RSI includes manipulation of the affected wrist, elbow or other body part affected, as well as manipulation of the upper spine. As our related injuries specialist or chiropractors also use the Graston technique and "pin and stretch" techniques to break up adhesions and scar tissue that forms in response to repetitive stress, and may also advise you to rest the affected area, apply cold to reduce inflammation, perform appropriate exercises, or wear a splint or brace to immobilize the area. Furthermore, after getting you out of pain, we will work to strengthen the area and prevent further recurrences.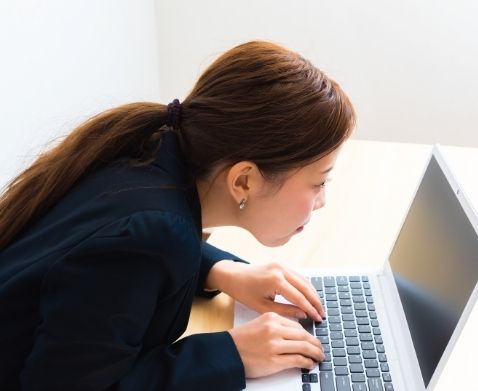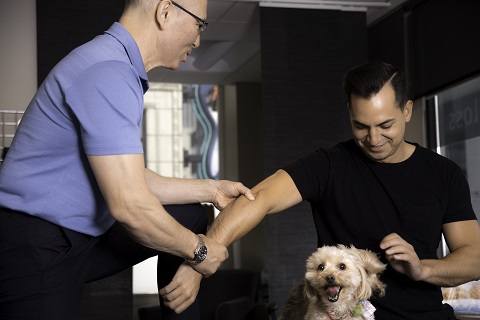 Repetitive Stress Injuries that we commonly treat:
Bursitis
Tendonitis (achilles tendinitis, tennis elbow, golfer's elbow, jumper's knee, and pitcher's shoulder)
Tendinosis
Carpal tunnel syndrome
Raynaud's disease
Cubital tunnel syndrome
Thoracic outlet syndrome
Intersection syndrome
Rotator cuff syndrome
Trigger finger
Preventing Computer-Related Injuries:
Make sure the top of your computer screen is aligned with your forehead.
Sit up straight with your back touching the back of your seat. For that, chairs that provide extra support, especially lumbar (lower back) support are helpful. Also, avoid slouching over your keyboard or tensing your shoulders, which can place unnecessary stress on your neck, back, and spine.
Let your legs rest comfortably with your feet flat on the floor or on a footrest. If you place pencil on your knee, the pencil should roll toward your waist, not off of your knee.
Also, place the keyboard close to you so that you don't have to reach for it.
Fingers and wrists should remain level while typing. Use a wrist rest for extra support. Your wrists and forearms should be at a 90-degree angle to the upper part of your arms. Elbows should be placed close to the side of the body to prevent bending the wrists side to side.
Be sure to take breaks (to stretch or walk around) about every 30 minutes — even if you don't feel tired or feel any pain. Use a timer to remind yourself to take a break.
And, try an ergonomic keyboard that has a curved design, and use a trackball instead of a mouse.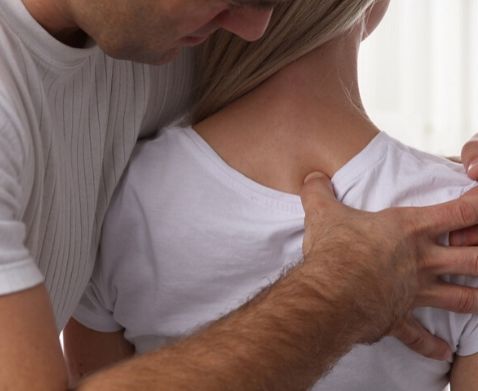 Practice good posture. Find postures that keep joints in the middle of their range of motion, use larger muscle groups when possible, and reduce body usage that involves fixed tensed positions.
Make sure your instrument is properly sized for your body. It will avoid those work related injuries.
Stretch before and after playing and warm up properly. Musicians are putting athletic demands on fine motor musculature and should similarly be religious about warming up before practice or performance.
Also, you can ask our chiropractors for specific exercises and work related injuries treatment to strengthen your arms, wrist and hands.
Take adequate breaks to stretch or walk around – even if you don't feel tired or feel any pain. Use a timer to remind yourself to take a break. This may be the single most important thing to remember.

Constant tension and repetitive motion does not allow the body to flush away metabolic waste products and this is traumatic to tissues over time.

Even in the middle of playing a piece you may have a moment to relax a hand or arm to restore circulation.

Try two or more shorter rehearsals in a day rather than one long, intense session, and limit total time on your instrument. The marathon rehearsals that musicians pride themselves on have great potential to hurt them. Emerging research on athletes reveals that overtraining actually decreases performance.
Consider switching to an ergonomic instrument- If a RSI is already affecting your health, you should seriously consider using an ergonomic instrument. Clever engineers and designers have adjusted traditional instruments to provide the same sound while making them easier to play.
Stop playing when you are hurt. Musicians are notoriously hard to persuade to reduce or stop their playing to allow injuries to heal. "No Pain, No Gain" is disastrous for a musician. Is it worse to have to not play for a few months or to risk a permanent injury, disability, pain, and never play again?
"As a clarinet player, I need consistent treatment, involving my neck, upper and middle back, wrists, hands, and fingers, and I know from my own experience that not all chiropractors are willing to or are capable. Dr. Devine's adjustments have been, and continue to be, extremely effective. I cannot imagine being able to do what I do, especially at this stage in my career, without Dr. Devine's assistance. He is a warm, bright, thoughtful, and caring person whom I can recommend without any reservation whatsoever. Plus, he's right down the street from Benaroya, so what are you waiting for?! "
– Jennifer Nelson,
Principal Clarinet, Pacific Northwest Ballet Orchestra;
extra clarinet/sax w/Seattle Symphony & Seattle Opera